From sharing the clubbing photos and the latest news to keeping in touch with your far-flung family and friends when you're too busy to call, social media has covered a great journey so far. Nowadays, marketers use these platforms to make their audience learn about their brand and actively engage with it. But to break your little bubble, great social media doesn't happen overnight. 
This is where Zoho Social comes into play. It is a social media management tool integrated with Zoho CRM to deliver a complete solution for your sales and customer acquisition. Given the benefits of this tool, let's maneuver you through why integrating Zoho Social with Zoho CRM might be the best decision for your brand, but first, you need to understand what Zoho Social actually is. 
Understanding Zoho Social 
Zoho Social is an all-inclusive social media management platform that enables marketers to schedule posts, create custom dashboards, monitor mentions, and more. From creating intelligent reports to helping you collaborate with your team, Zoho Social has all the features you need to build an impactful brand on social media. 
Besides, by collaborating with other people, you can organize and plan for future campaigns instead of taking it on as a one-person army and leaving you high and dry when things go wrong. 
Here are some features of Zoho Social that make it stand out from many other online tools. 
Post scheduling 

Content calendar 

Comprehensive dashboard 

Accurate social analytics 
Now, let's see why integrating Zoho Social with Zoho CRM is a good idea. 
Why Integrate Zoho Social with Zoho CRM 
Integrating Zoho Social with Zoho CRM is a no-brainer! It can be used to get valuable customer feedback right in CRM quickly. It also helps you keep up with customer engagement as no other CRM does. As Zoho CRM offers tools related to advertising, sales, and customer service, integrating Zoho Social with CRM makes the most sense. 
Your customers are your biggest asset, and through Zoho Social, you can discuss the products and services you offer. You can even see what your competitors are doing to gain an insight into their products and services. Customers love to post about their experiences, and you can use that information to improve processes like customer service and brand awareness.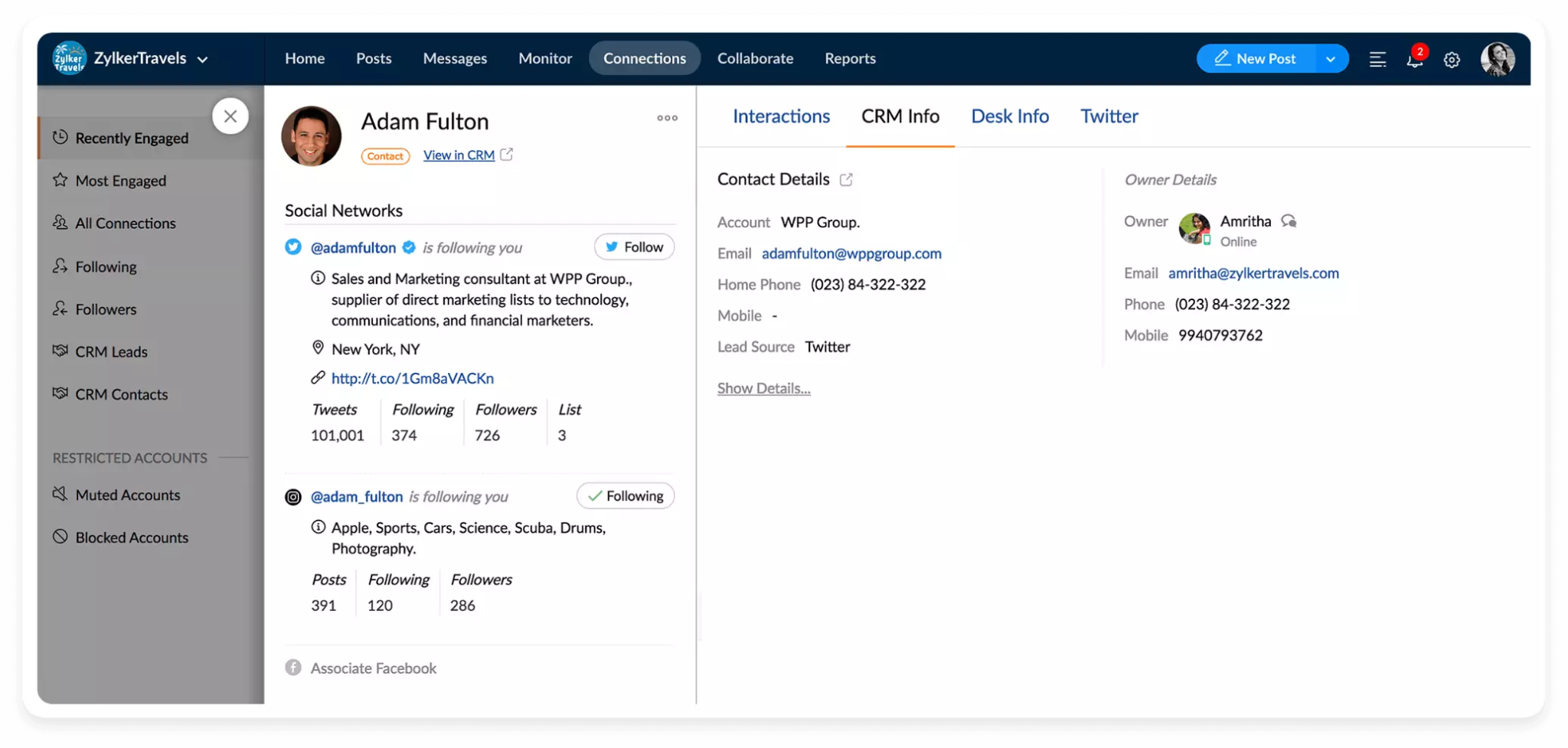 Not yet convinced? Let's have a look at why you should integrate Zoho Social with Zoho CRM.    
Follow Customers' Social Media Interactions 
Once you integrate Zoho Social with Zoho CRM, you can easily monitor all your customers' social media interactions. This way, you will know what your customers are saying about products and services. You also get to see where potential customers are interacting with your brand instead of just seeing the activity on social media. 
Manage Multiple Platforms at One Place 
Organizations with social media profiles across multiple platforms, including Facebook, Twitter, or more, can significantly benefit from Zoho Social and CRM integration. The CRM makes it easy to manage the profiles by simply adding them under a Brand name and allows you to manage your social media handles from a single dashboard. Besides, Zoho CRM seamlessly synchronizes all your social handles in real-time. What does it mean? Less time on setting multiple accounts and focusing more on closing deals!   
Monitor Customer Feedback 
Zoho Social and Zoho CRM integration enable you to monitor customer feedback easily. The tool scans all your customers' social media interactions and automatically generates a report based on their current sentiment about your brand. With the extensive dashboard and everything in one place, you can now focus on social media conversions from your leads, potentials, or contacts to stay ahead of the curve. Also, it allows you to see how often someone has engaged with your brand and like, respond, or retweet to directly engage with them. 
Add Leads From Social Media to CRM 
Adding leads from social media to CRM is the best way to ensure you are reaching out to potential customers. Integrating Zoho Social and CRM will allow your team to see all the activity, emails, and shares on social media. You can use this information to create an email automation campaign or an email-based marketing campaign. Moreover, with this integration, you can automate your lead generation or manually add leads from the Social Tab. You may also set up triggers to automatically add contacts and leads based on the type of interaction your customer has.  
Get Notifications
Is there a point in using a CRM if you can't engage with your audience in real-time? No, right? This is another amazing benefit of integrating Zoho Social with Zoho CRM. You will get notifications on Zoho CRM whenever someone interacts with a brand on social media. You will immediately know when someone mentions your brand on social media or interact with your posts. From keeping track of all customer activities, to following their behaviors, with this integration, you will be the first to know about all the conversions taking place around your brand. 
The Bottom Line 
Social media marketing should work hand in hand with your sales and marketing strategy. If you are using social media to build brand awareness, why not use it for sales? With Zoho Social integrated with Zoho CRM, your sales team can immediately learn about the leads coming in through social channels. They can take action automatically by sending them surveys or even calling them directly, so they never miss out on potential customers. 
With just a simple click, a lead can be converted into a customer!